Circle Genealogic and Historic Champanellois

Association "Law 1901" of Saint-Genès-Champanelle, 63 , France
Site of the old careers and discharges of Fontfreyde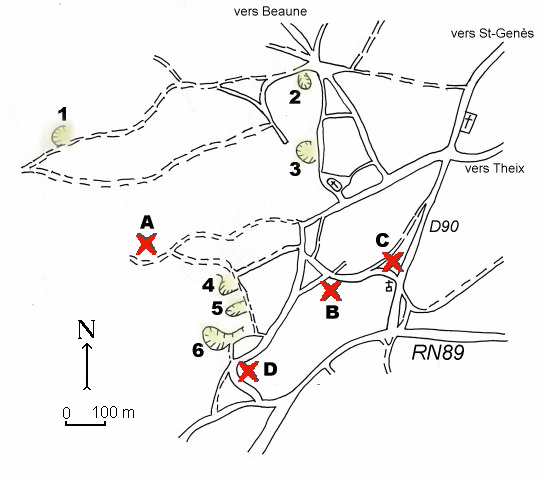 Carreers... [1-2-3-4-5-6]
It had there in Fontfreyde up to 6 basalt careers which were used to produce
mainly hardcoresand stones of size for the construction of
houses; majority of the dwellings built before 1970 in the borough,
whrn they are not rough-cast, show stone frontages of lava.
Certains careers were on the "sectionnaux" pertaining one to the inhabitants
village, the were rented with private owners [1- 4 - 5 - 6].
Others, belong to private individuals [2 - 3].
One reported to us that the career n°2 had characteristic to have one
small excavation in the rocks from which a cold airstream left,
insufficient to create un block of ice as to Saint-Ours, but which allowed
to store in a cool place, drinks of the snacks.
None is exploited at the present time. one among them, the largest,
is used as various material deposit... It knew other uses
in ludic matter : it was used as bowling pitch, of site of shooting to the arc for the benefit
inhabitants of the village.


way
quarries

view of the last
stone masons
of Fontfreyde
old postcard
of the great quarry
view of the "cheire"
of Fontfreyde
old postcard
of a quarry
in Volvic
view of the "cheire"
of Fontfreyde

Discharges... [A-B-C-D]
They were 4. Most imposing [A] located on the "cheire" above
village, was rehabilited en 2000. The 3 others on the other hand were not it and
were simply dissimulated by the vegetation during years which
have follow-up their abandonment. B waslocated between the "coudert" and the cross of Bourgne.
C was between the cross of Bourgne and the way of the cross. D was
located on the slope under the old relay.
It should be noted that a cadastral chart of 1840 indicates the presence of a pond to
the site of the discharge B but which has been filled by the known as discharge.
* [ backto the history of Fontfreyde ] * [ back to the patrimony page ] * [ back to the welcome page ] *
---
Election of the town-council of March 25, 2020
Results of the european elections of May 26, 2019
---
---
All rights reserved - © - 1999 - 2020 - Design & realization Bruno FUNGENZI